Not only does Boich Family Cellar have roots in the state of Ohio, we have some awesome supporters of our wines. We would like to send a heartfelt shout out to all of our Ohioans and a special thank you to our friend Chip and the WMJI Morning Show for recognizing our efforts to engage and connect with our customers, bringing Napa Valley to them. Thank You, Chip! Please read the full story below or click here.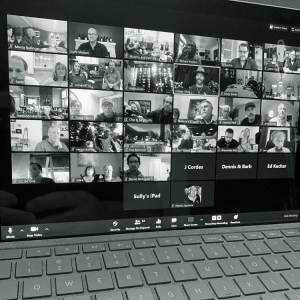 Can't Go to Napa? Let Napa Come to You
By Chip Kullik
Social distancing has us all looking for alternative ways to socially engage with friends. Many of us are using Facetime, Microsoft Teams and Zoom to conduct business and connect with family and friends while we are under stay at home orders. In our house, we have been using Zoom to take part in virtual happy hours and wine tastings – which has reconnected us with friends we have made over the years in California's wine country. Last night was the best virtual wine tasting we have done during the lockdown, hosted by our friends at Boich Family Cellar in Napa Valley. Boich is one of our favorite boutique wineries, which we were lucky to discover on a trip to Napa, right after the devastating fires in 2017. And…wait for it…"There's an Ohio connection!"
Founder John Boich proudly hails from the Buckeye State. John headed to the west coast for a career in finance but eventually fell in love with Napa Valley. While on a weekend trip there in the 1990s, Boich impulsively bought a piece of property on Mt. Veeder. Decades later he would test his hand in the wine making business and lucky for us he did.
Partnering with Boich is local businessman Ed Kuchar, of Bath, Ohio, who met John Boich when he was in town for a tasting at a local restaurant. Ed instantly knew these wines were something special and eventually talked to John about becoming part of the team. Ed Kuchar is now a partner with Boich Family Cellar. As a side note, Ed's great taste extends beyond fine wines, as he is also a fan of the Majic Morning Show.
Jnani Matson is another partner, who is also the COO of Boich Family Cellar. It was Jnani whom we first met during our visit to the estate, which offers breath-taking vistas overlooking the valley. It was a tasting experience we will never soon forget, as the wines were as fascinating as the conversations. Jnani served our country in the Gulf War in Airborne and rapid deployment forces; and later, was a bodyguard for several major A-list celebrities in Hollywood. Upon arrival, we were greeted with a glass of Chardonnay, along with four, fully decanted bottles of Cabernet, which we were instructed were ours to drink. As an added bonus, the wines were paired with delicious bruschetta prepared for us by "Mama" Boich. It was also smart we had a driver for our tour; after all, we didn't want to be rude and not drink all the wine.
Boich wines are a must-try for serious wine enthusiasts. Their exquisite Cabernets are made from grapes from some of the best vineyards in all of Napa Valley, including the iconic Beckstoffer Vineyards (Georges III, Missouri Hopper and To Kalon), Mt. Veeder and Howell Mountain. They also offer a show-stopping Chardonnay from the Ritchie Vineyard in Sonoma. The primarily single-vineyard Cabernets are everything you'd expect in a classic Napa wine – artistically-structured, fruit-driven reds, with rich flavors that dance on your palate joined by bold "kick you in the teeth" tannins. Add to that a pleasing finish and you'll be begging for another sip or, in my case, another bottle.
If you're in Napa Valley one day, after the COVID-19 pandemic is behind us, be sure to check out Boich Family Cellar for a one-of-a-kind wine experience. In the meantime, you can reach out to Boich now to set up your own private, virtual wine tasting.